A couple of weeks ago we went to the Gold Coast for a mini family getaway. We've travelled quite a lot with our one and a half year old son, but I can honestly say this was probably the most relaxing holiday with him yet. Our little monster was so easy to handle, I don't know if it was the water, the weather or just the fact that we were away from our usual routine, but he was just a delight. Ok, there were some tough moments, but all up it was great. Yay, and here I was thinking that now that I'm a parent all relaxing holidays are over for us.
Anyway, I even managed to snap some pics of me for a FOTD post one afternoon while our little boy was napping. This was a look that I did on most days, smudged smokey brown eyes, peachy cheeks and lips.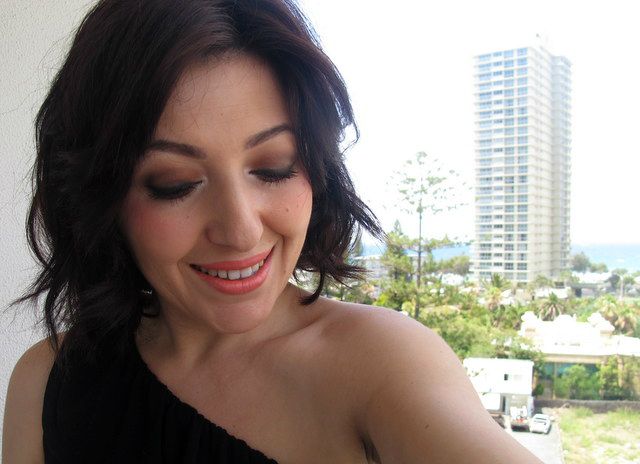 Products used
Maybelline Dream Matte Mousse Foundation in Nude
Maybelline 24hr Super Stay powder in Sand
NARS blush/bronzer duo in Orgasm/Laguna
Lorac Pro Palette - Garnet (lid), Champagne (inner corner), Espresso (outer V), Black (smudged on top of liner.
Rimmel Brow Pencil in Black/Brown
The Makeup Store pencil eyeliner in Black
Max Factor False Lash Effect Mascara in Black
Inglot lipstick in #104
By the way, would you believe this is all I took with me on holidays? I took 2 additional lip products (Savvy lipstick in San Fran and NYX lipgloss in Orange Soda), but I only used the gloss once and the lipstick none at all. I mainly just used the Inglot lippy from this post.
I'll leave you with a few iPhone pics from our holidays, some of which you might have already seen on my Instagram.
Top: with my son on Surfers Paradise beach; at Tamborine Mountain Skywalk; enjoying a poolside cocktail
Bottom: Luca clearly having a lot of fun sitting on daddy's lap, kiddie fun at Broadwater playground; Surfers Paradise night markets.
Do you have a standard holiday makeup look that you do?