Do you remember
I posted a month ago that I've embarked on a bit of a journey to get my hair to healthy conditions
? All the styling, teasing, playing with it and twisting it had taken their toll on my poor hair which had ended up dry, dull and full of split ends. I decided to use plain and simple coconut oil to get it healthy again. I also stopped washing it every day and instead wash it every 2nd day to give my hair a bit of a break.
Results
One month in I'm pleased to say there is a noticeable difference! I had my hair cut just before I took the photo on the left to get rid of some of the split ends. A month later my hair definitely looks shinier, fuller and less scraggly at the ends. It also feels thicker, and smoother to touch as you can see from the curled hair photo on the bottom.
It's far from healthy yet, but it's definitely getting there!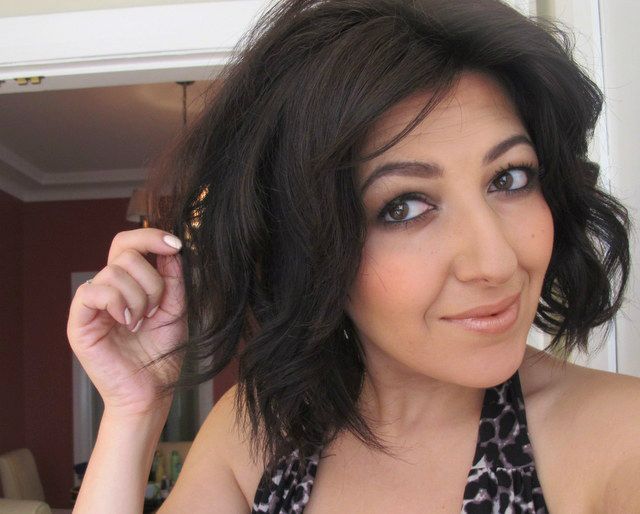 Hair Products I'm using now
TREATMENT: Coconut Oil
This is a new jar that I'm using as I finished up my old one. I bought it from my local chemist for around $8, and as I mentioned in the previous post it doesn't matter what brand of coconut oil you get as long as it's extra virgin. I apply this to my hair about an hour or so before washing it 2 nights a week. As it is an oil I need to shampoo my hair twice to get it all off my hair, so if you are going to try coconut oil then make sure you wash it off well.
SHAMPOO/CONDITIONER: L'Oreal Mythic Oil Shampoo & Conditioner
I got this because the hairdresser recommended it, but to be quite honest it's a bit average for me. I don't feel like they're moisturising enough so I won't be repurchasing it. Maybe for someone with normal hair this would work better, but it's not for me.
DRY SHAMPOO: Cedel Dry Shampoo for Dark Hair*
Since I'm trying to not wash my hair every day, on some days a dry shampoo is a must. Unfortunately I'm yet to find the perfect dry shampoo that doesn't make my roots feel gross. This one is pretty good as it's formulated for dark hair (bye bye white powdery roots!), but after a few hours of applying this my roots feel quite heavy, so this isn't the perfect one for me either.
HAIRSPRAY: L'Oreal Elnett Satin hairspray
I've been using this for quite a few years now. I keep on repurchasing it because it brushes out easily and doesn't make my hair feel crunchy, but gives me the hold that I need.
LEAVE IN TREATMENT/STYLING: L'Oreal Mythic Oil
and
David Babaii Miracle Elixir spray*
Whenever I'm wearing my hair straight I apply a bit of the L'Oreal Mythic Oil in my palms then rub over my hair to give it shine. This is quite potent, so the tiniest bit is needed as otherwise it makes my hair into an oil slick! Whenever I curl my hair I spray a bit of the David Babbai spray for shine and a bit of definition, as the spray makes it easier to apply without messing up my curls.
So there you have it, a month of using coconut oil and a more simplified hair care routine and I'm already seeing results. I can't wait to see how my hair will feel during the next month's update.
*PR Sample